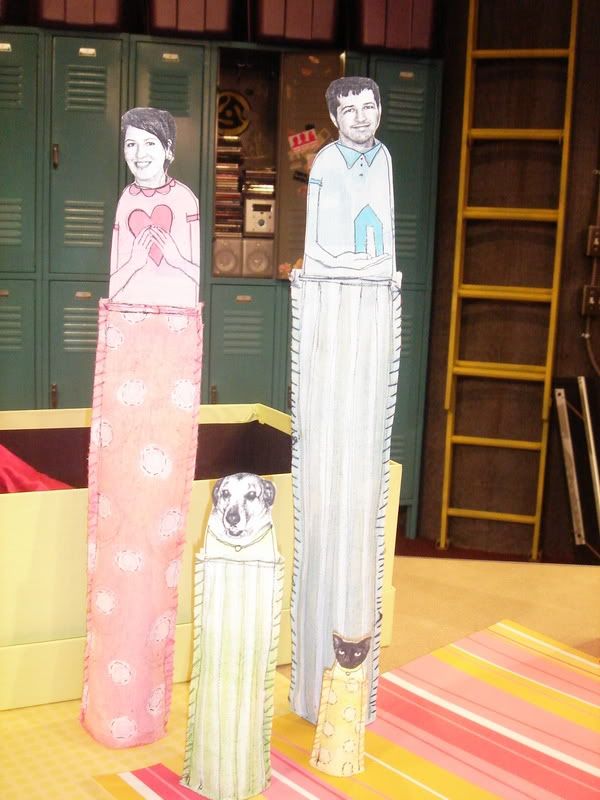 Day number 2 of Craft Lab filming went absolutely swimmingly. My friend the adorable Claudine Hellmuth was my guest and of course both of her projects were so cute they would make the Gerber baby look bad. Claudine was a guest last year so I was so happy to have her back. We filmed two episodes together today. First up we made a Victorian Cone Puppet out of her dog Toby complete with polka dots, ball fringe and fun party hats. The second episode we made a 3D photo collage of the Perkins-Boehk family. AKA these cute little stand up figurines with pictures of Chris, Lucy and Georgie. Check out the picture. Georgie looked like a little piece of baby corn, so CUTE!!!!
I am also a fan of both of our craftettes today. Monica was a crafter on the airbrushing show as well and came back for more crafty action today. She makes these headbands that I have been smitten on for a long time and I finally scored one today! I emailed her after Thursday's show and let her know all my favorite colors and she whipped me up a custom head band. I LOVE it and wore it on the first episode Claudine and I filmed. Our other crafter is a cutie named Laura who you might know from Charcoal Designs. I have admired her fun jewelry for quite some time and was all excited when I found out who she was. Both girls did a wondermous job crafting along with Claudine and I.
This summer when I taped the Christmas special in Knoxville Claudine's poppet kit was one of the items on my list for gifts for crafters. If you love her poppets as much as I do you might head over to the Creating Keepsakes Poll and vote for them. I did. Speaking of voting, have you voted in the Venus Hott List Poll? Naughty Secretary Club is nominated for Best DIY business so be sure and go get your vote on!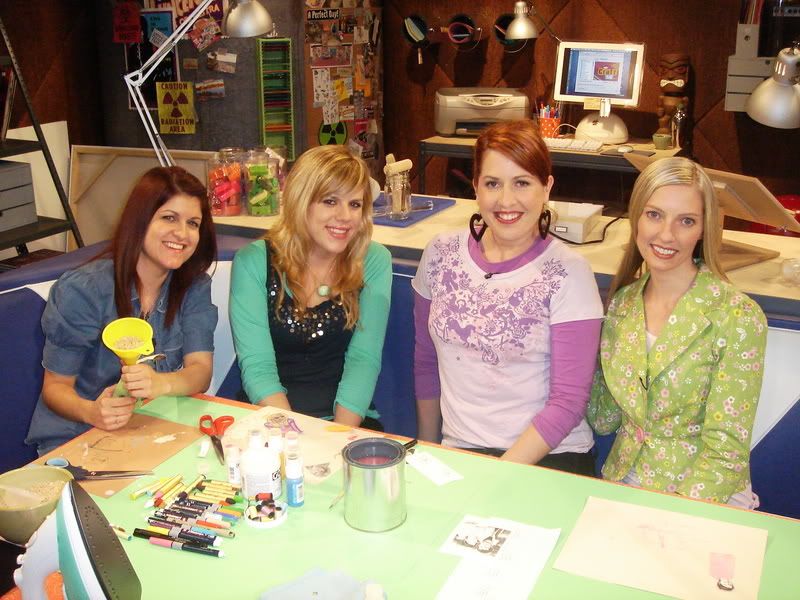 After taping this afternoon, tomorrow's guest and another friend of mine Susan Beals, AKA Susan Stars was lingering in the lobby of the studio. Claudine and I convinced her to come out to dinner with the two of us and off to sushi we went. It was nice getting to talk about running your own small business with such clever ladies. We also talked about some super scary thing called Passive Internet use that should make every web business owners blood run cold.
After dinner I dropped the girls off at the hotel and headed over the hill to my apartment. I hit the gym and read the new issue of Venus as I peddled away on the bike. Back in my apartment I waited 75 years for the slowest internet connection in all of Los Angeles to upload these pictures for your viewing pleasure.
Better go get a good nights sleep. Tomorrow is my first 3 show day!