Today I am going to ask you to read another blog. Why? Because my friend Dave Lowe wrote a whole big blog post about the set of Craft Lab. Dave builds and designs the sets for Craft Lab, Knitty Gritty, Stylelicious, Uncommon Threads and oodles more. If you listened to the podcast I did with the Crafty Chica you might have heard me name drop Dave and his amazingness. I loved the set on Season 1 of Craft Lab, but if you have been catching Season 2 on HGTV I love the new set even more. It is so much more me from the bowling trophies to the lime green stove. Look closely for details like Austin Craft Mafia and Sappy Moose Tree Stickers. Tiki bobble heads and splatter painted sinks. The whole set felt more homey to me and all my repeat guests commented on much they loved it as well. Dave posted an entire blog about how he designed the set of and put it into action, so if you are interested, check it out here.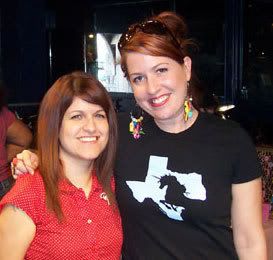 Also before you go I want to mention that sometimes on Craft Lab our crafters are as amazing as the guests. Well the crafters are always amazing, just sometimes they are full time crafty peeps themselves. Take tomorrow's episode for example. Little do you know the blonde is Monica of Monica Burnett Hats and the brunette is Laura of Charcoal Designs! This is a picture of Laura and I when I stopped by her booth at Felt Club last fall at The Echo. Ooodles of other Indie Craft Superstars grace that booth under the guise of "crafter", I'll try and keep you posted.
Oh and in jewelry news, everyone can breathe easy now the Abraham Lincoln Bracelet and Pea Pod Necklaces are back in stock at Naughty Secretary Club.