I scored a copy of the February 06 issue of Teen Vogue this weekend. Check out the Naughty Secretary Club Sea Breeze Bracelets on page 144 and our True Love Earrings on page 147. In other news about the web site I also added some new Nouveau Bracelets yesterday plus restocked the Belt Buckle Bingo Necklaces. I have been out of a part for these babies for months that I guess I had on back order and mystically this weekend they arrived on my door step.
I went and saw Vickie's new house yesterday which is super duper cute and close to me. Oh and I watched the premiere episode of Rollergirls on A&E. These are Austin gals ya know. However, I did not recognize any of these chicks and I thought I might. I have only been to see their competing league here in town. Austin sure looked pretty and I hope the show does well.
I downloaded some new songs. Ya see there is no "soundtrack" to 16 Candles that you can buy, so I downloaded random songs from the movie I didn't have. I also went through a couple of "Best of 2005" lists and downloaded some suggestions. Here is what I think so far, oh and here is the shoe a week picture.
Thompson Twins "If You Were Here" This is the song at the end of the movie with Samantha and Jake sitting on the table over the cake.
Wham! "Young Guns" Holy Crap George Michael is rapping.
Nick Heyward "Whistle Down the Wind" Something about this song makes my heart hurt.
Kelly Clarkson "Since You Been Gone" Seriously, this is a good song. I could see any number of pop punk bands singing this same song. I think Ted Leo does a cover.
The Clientele "Since K Got Over Me" Reminds me of something out of England in the early 90's Primal Scream days.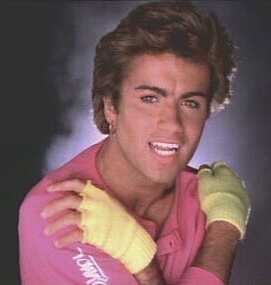 White Rose Movement "Love is a Number" If I didn't know I would think I downloaded this one along with the 16 Candles soundtrack as some ditty at the school dance scene.
Art Brut "Good Weekend" I think I really like this and might get me some more.
Fiest "Inside and Out" Usually I love anything even slightly pertaining to R&B smooth jazz, but I can't decide how I feel about this.
Stella Starr* "Love and Longing" Reminds me of Interpol. Is this guy really English or just trying to be. I still like it.
Living Things "Bom Bom Bom" Has a good 80's metal Foreigner "Hot Blooded" type guitar hook that tickles my fancy.
The Exit "Don't Push" I already heard the Futureheads "The Hounds of Love". Hell maybe these guys were first. Sounds good either way.
Greg Dulli "Cigarettes" I am downright embarrassed that it has taken me this long to get his solo CD anyway. Remember the Afghan Whigs? No? Go download "Debonair" and "Retarded" by the band right now.